Contribution by Ms Sheila Khodadi (parent in ISD primary)
Start of the idea
It all started between a group of ISD primary parents who wanted to provide support for families in need due to the Corona crisis. The Corona situation has temporarily changed all of our lives and routines. Juggling working from home, parenting and schooling while at the same time keeping in touch with loved ones using digital technology. Indeed, life has become different, but for most ISD families, the new situation has not impacted their income. Unfortunately, this is not the case for everyone. Due to the Corona crisis, there are more and more families who struggle to afford their basic needs.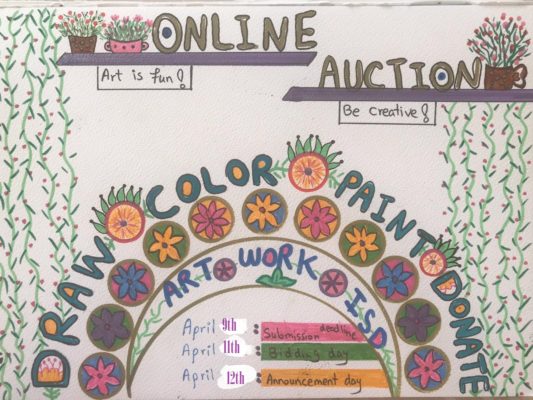 Online Art Auction
In this spirit, one of the ISD parents came up with the idea to organize an Online Art Auction. Students are asked to produce artworks for the auction and parents and family members are invited to bid on these and donate money to an organization that helps families in need. The nice thing With an Online Art Auction the kids are actively contributing to the project, while at the same time participating in a group activity during this isolation time. One of the students from PYP 7 even designed a website to track donations from the ISD community.
Bidding on artworks
Three weeks ago, the ISD community was invited to submit their artworks for the Online Art Auction. The children proofed to be very talented, creative and productive and submitted a varied selection of art pieces. Over 35 artworks were submitted! On Saturday 11 April, the ISD community and their friends and family were able to bid on the provided artworks. The starting price of each artwork was 1 € and max 5 € (max price could be set higher if indicated by the artist). On Sunday 12 April the winners of the auction were announced.
Great success
The Online Art Auction was a great success and on behalf of the Online Art Auction committee, we would like to thank you all for your kind support & contribution. Your generosity in donations, creating artwork and putting time and effort in the event, is beyond words. We are proud to announce that so far 493 € is raised to be donated to the organisation of the winner's choice. If you have missed the event and would still like to contribute, please feel free to make your donation anyway.
Suggested charities to donate to:
https://www.voedselbankennederland.nl/
https://www.rodekruis.nl/
https://www.unicef.org/coronavirus/covid-19/donate
Once you have made your donation please help us track our impact by reporting this amount here:
https://sites.google.com/view/isdgives/home
Thank you for helping!