International Baccalaureate
At ISD we follow the International Baccalaureate® (IB). IB World Schools share a common philosophy—a commitment to high quality, challenging, international education that we believe is important for our students. The IB offers a continuum of international education through four challenging, high quality educational programmes to students aged 3 to 19. 
ISD is an authorised IB World school where students follow the IB Primary Years Programme at ISD Primary and the IB Middle Years Programme at ISD Secondary. As ISD Secondary is expanding on a year – by – year basis, we offer the IB Diploma Programme from 2023/2024, with DP1.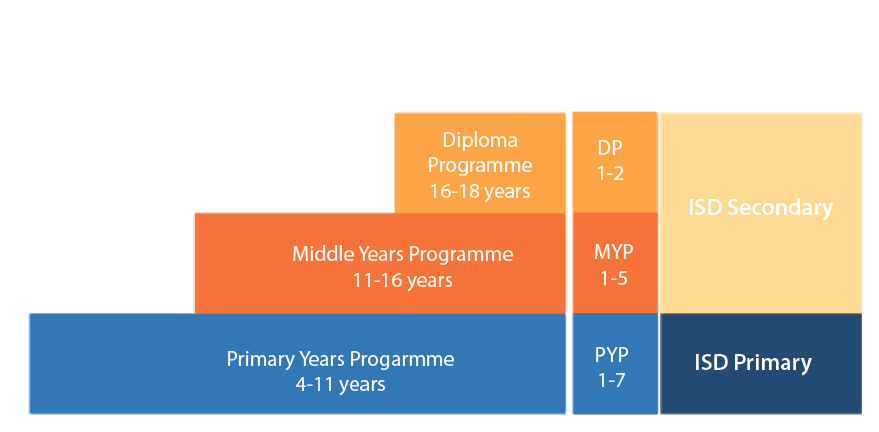 The two school Boards work closely together to present a vertically-aligned International Baccalaureate (IB) school for Primary and Secondary Education, with a focus on inquiry-based learning. The programmes encourage both personal development and academic achievement challenging students to think critically, to ask the right questions and think across disciplines. The curricula aim to prepare our students by providing them with the skills necessary for global citizenship. An IB education also fosters diversity, curiosity and a healthy appetite for learning.
We are supported by IB teachers and coordinators who develop and promote the IB's curriculum in almost 5,000 schools globally every day, in over 150 countries around the world. (www.ibo.org)
Children from an internationally mobile family, studying the IB programme, can be confident that the learning can be successfully continued in other IB schools around the world if the family moves to a new location.
IB MISSION STATEMENT
The International Baccalaureate aims to develop inquiring, knowledgeable and caring young people who help to create a better and more peaceful world through intercultural understanding and respect. To this end, the organisation works with schools, governments and international organisations to develop challenging programmes of international education and rigorous assessment. These programmes encourage students across the world to become active, compassionate and lifelong learners who understand that other people, with their differences, can also be right.