Contribution by Mr Mike Dessens
After a very relaxing bus trip to Den Helder, we had to pack our bags and get on the boat to Texel. When we arrived at Texel, the bikes we would be using during our stay were there, and fortunately for us, we only had to carry our daypacks on the bikes.
It didn't take long for the complaining to start, some thought the pace was too slow while others thought it was too fast. We were impressed, though, with how smoothly the whole cycling went during the trip.
On the first day, we also had an excursion to De Slufter', which was nice and interesting, however on the way back to our accommodations we got drenched because of the downpour we experienced.
In the evenings we had a beautiful campfire and most students really enjoyed the silent disco we arranged. A nice and relaxing end to an intense first day.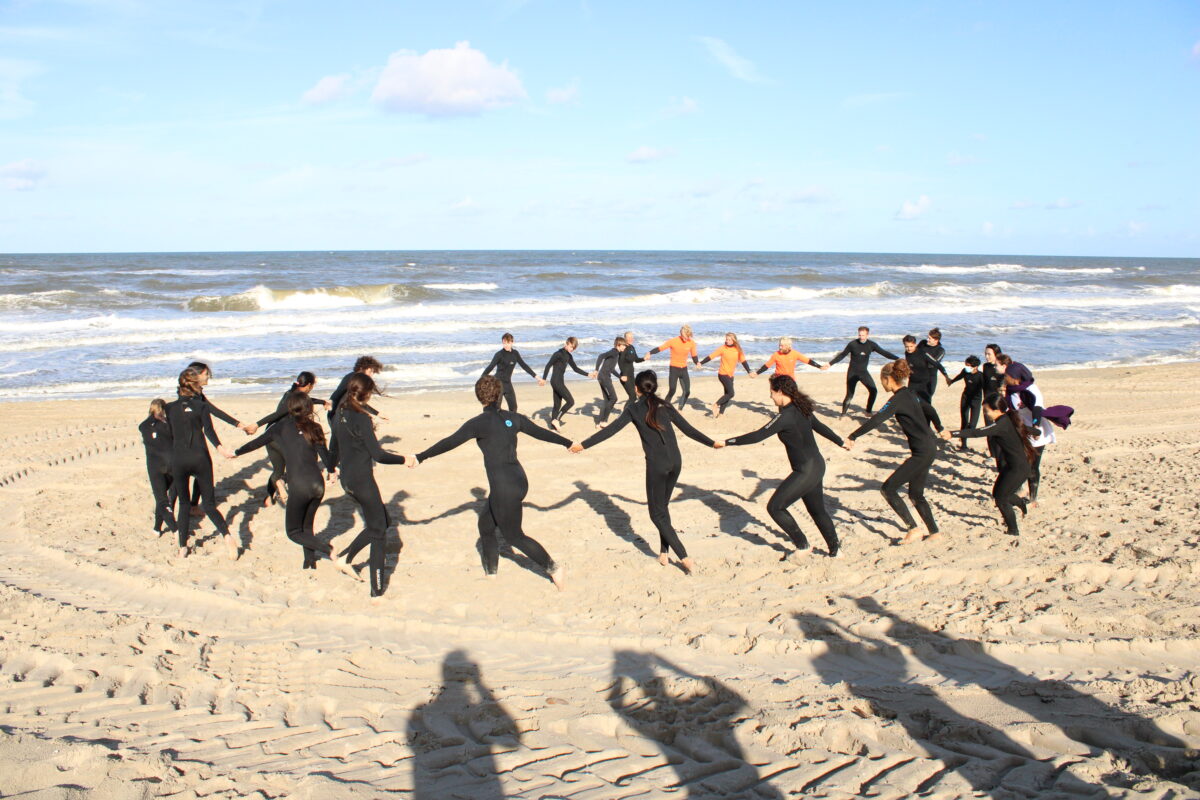 The second day was going to be a very active one. We were extremely fortunate with the weather, especially considering the fact that we were spending the morning on the beach surfing the waves of Texel. Students really enjoyed this activity, some couldn't seem to get enough. In the afternoon, Mrs Beckers organized a series of very diverse team building activities, which led to students working together and really enjoying themselves.
For dinner, we went out to a pizzeria and after that, Mr. Dessens had designed a Games Night/ Pub Quiz, which was a lot of fun. Although some students found it difficult to keep their eyes open, after such an active day.

On our final day, we had to cycle through the rain to Ecomare. At this wildlife centre, we discovered some of the beautiful wildlife and ecosystem that Texel is famous for. Students thoroughly enjoyed the sight of the seals that are there. All in all, we can look back on a really nice trip where we were able to spend quality time getting to know each other as well as experiencing some typical Dutch things.

Reflection from one of our MYP 4 students
My favourite activity to do was the silent disco, I found that much fun. The other activities I enjoyed as well, it was very fun, and they were a good activity allowing us to get to know each other better. The last thing that I really enjoyed was the game night, I thought that was very clever and a lot of fun to do. Lastly, I loved that we got the chance to learn how to surf. I think that normally I would not have done that and It was a cool opportunity. The only thing that I didn't enjoy from the camp was all of the biking in the rain, though I think that it applies more to the weather than anything else.

The one thing that I would suggest to the other students, is to make sure that you bring in your rain jacket, and as many waterproof things that they can because it was very rainy. Pripučiamos guminės PVC valtys konkurencinga kaina, kateriai, benzininiai varikliai ir priedai Argo drive Other than that just make sure to have fun and a good attitude towards everything. Overall I had a lot of fun on the trip.